TC-EPD30W USB-C PD 3.0+QC3.0 USB FAST CHARGER
Production information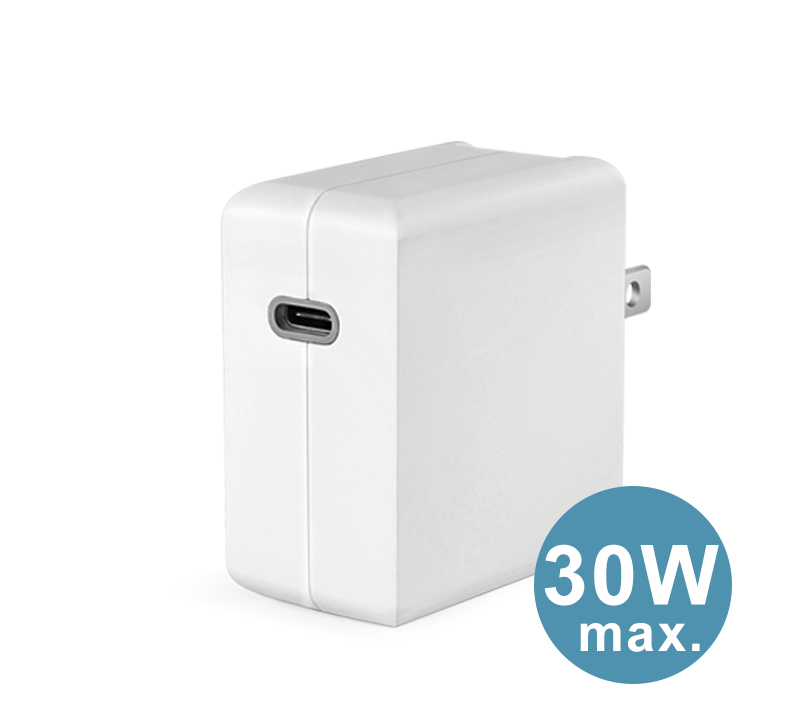 Input : Universal Voltage
Output : 30W max.
Output : DC5V 3A / DC9V 3A / DC12V 2.5A/ DC15V 2A
Output port : 1 ports
Excellent charging mode
Topcom TC-EPD30W is a USB-C PD and QC3.0 input port fast charger. Build in three leave of voltage can charging for mobile phone and the devices requiring a DC5V, DC9V, DC12V and DC15V input. Build-in smart IC to auto identify suitable voltage and current for a device needed, support a device with the USB Power Delivery 3.0 and Quick Charge 3.0 fast charging mode. it is best choice for saving charging time.
Type-C PD+QC3.0 quick-charge capability
Topcom PD Charger features Type-C Power Delivery (PD) and QC3.0 quick-charge capability. The USB-C interface can auto detect to offer suitable voltages and charging current. It supply up to a maximum output of 30W. Suitable for the powered of type C connector interface products. Support a device with the PD and QC3.0 fast charging mode.
We have best idea for different voltage device. once the device used does not have PD or QC charging function, TC-EPD30W USB charger can supply power to the general D5V input device too.
Safe charging and easy storage
TC-EPD30W USB adapter is a classical appearance and build in USB-C interface PD3.0 charging function USB charger. It not only comes with Power Delivery (PD) high technology charging function to powered your device fast, but also have the foldable American plug, fixed England plug, fixed Europe plug but also have fixed Australia plug and Korea plug. No matter what kind of plug all easy to storage and carry.
Strict selection of materials
TC-EPD30W portable quick charger made by the 94V0 fire-resistant PC material. Pass it by the international standard and to go through more critical test, made it more durable and safer!
It designed with constant voltage, constant current and pulse width modulation circuit. besides, the multiple protections of over-current and short-cut circuit etc. is not only offering a stable charging process but also securing a safer long-time usage condition.
Supports multiple devices equipped with the USB-C connector
TC-EPD30W travel charger supports DC 5V~15V input devices. As 3C electronic devices , mobile phones、tablet PC、toys and portable games devices. It can auto-regulate power output to suit each device for an optimum charging process.
TC-EPD30W USB-C charger supports downward compatibility, you can connect to the type A connector for charging your device. Don't need to worry about the charging problem.

Private mold
Topcom all USB charger safer and reliable than the materials of the public molds on the market.
Because the molds/outlook/circuit of USB charger are all designed by Topcom engineers and built with high-tech technology. Passed by the international standard and to go through more critical test, made it more durable.
Friendly interface
Topcom TC-EPD30W USB portable adapter is a best power supply for famous brand electronic and device. As Apple , , MacBook, Nokia, Google ChromeBook Pixel, Dell Venue, Asus RGO, innos, Letv, Meizu, ZUK, nubia, Gigaset, Mi, Vivo, Hawei and other device's USB charger.
It is not only with friendly interface design to simple and easy use, but also comes with USB-C 3.0 and QC3.0 high technology for speed charging. Suitable for the powered of type C connector interface device.
Product info
Input : AC 100-240V/50-60HZ 0.55A
Output : 30W max.
USB-C PD3.0+QC3.0 charging mode DC 5V 3A / DC 9V 3A / DC 12V 2.5A / DC 15V 2A
Dimension /weight:
US foldable plug : L61*W 52*H28 mm / 75g
EU /KC fixed plug : L90*H52*H28 mm / 80g
UK fixed plug : L83*W52* H28 mm / 90g
AU fixed plug : L81*W52* H28 mm / 86g