TC-E480F 4 USB ports charger
Production information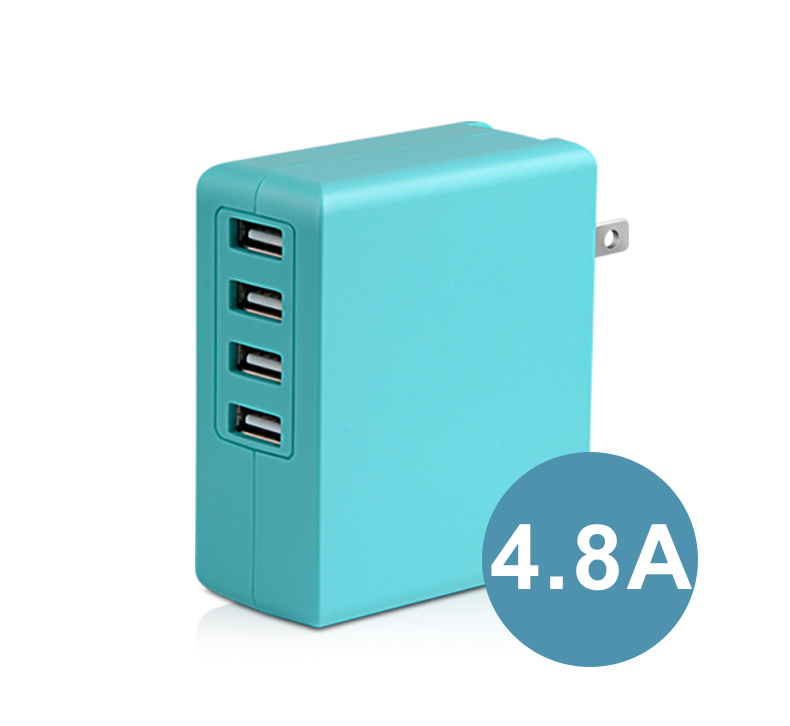 Input : Worldwide Voltage
Output : 24W max.
Output : DC 5V 4.8A max.
Output port : 4 USB ports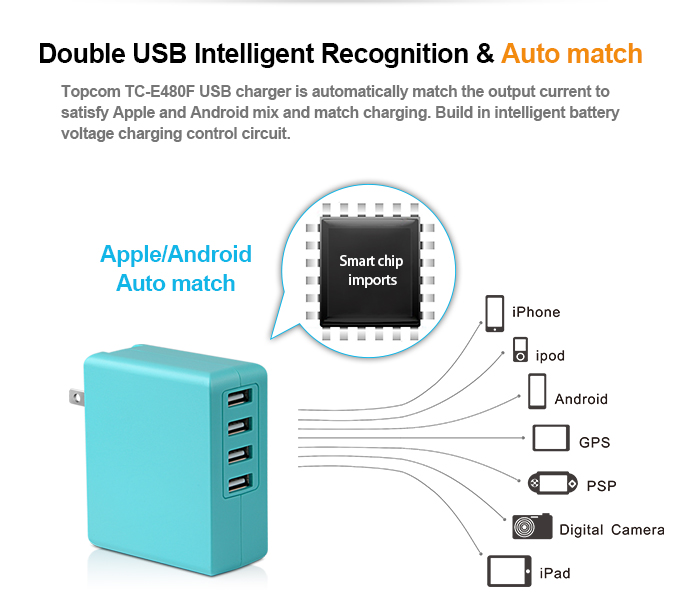 4.8A High Output for Fast Charge
Each USB port output is DC 5V/ 2.4A, it is the optimum and efficient power output to fast charge your mobile device.
TC-E480F is high speed USB charger, especially suitable for people who want to quickly powered their device. It is to sell well on local and foreign markets, such as Taiwan, Germany, Dubai and Europe.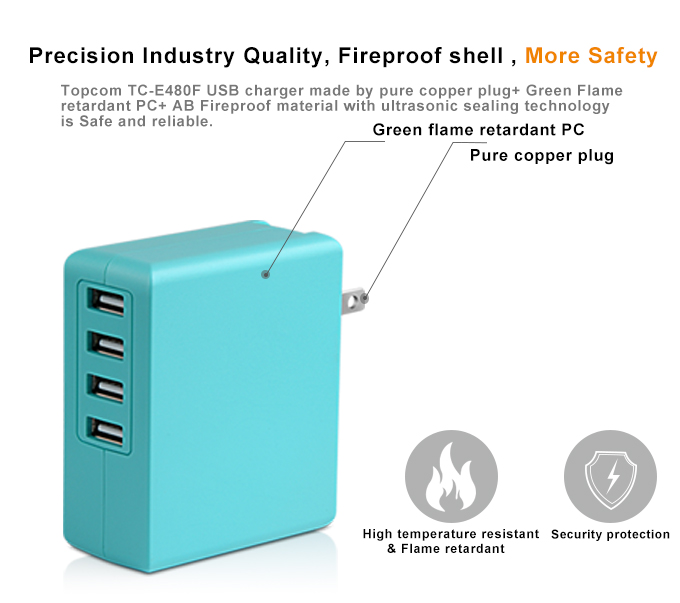 Strict selection of materials
TC-E480F 4.8A USB adaptor made by the 94V0 fire-resistant PC material. securing a safer long-time usage condition.
It designed with CC, CV and PWM circuit; besides, the multiple protections of over-current and short-cut circuit etc. is not only offering a stable charging process but also securing a safer long-time usage condition
The intelligent detection IC can auto regulate output current to avoid overload, over heat and short circuit situations. When an anomaly occurs, such as overheating or current overload, the USB Charger cut-off or regulate output automatic to ensure stability and safety.
Supports multiple devices equipped with the Type-A™ connector
Currently supports DC 5V input devices such as smartphones、tablets、GPS 、toys、PS4 and portable games devices. It can auto-regulate power output to suit each device for an optimum charging process.
Unique mold
The molds/outlook/circuit of USB charger are all designed by Topcom engineers and built with exclusive high-tech technology.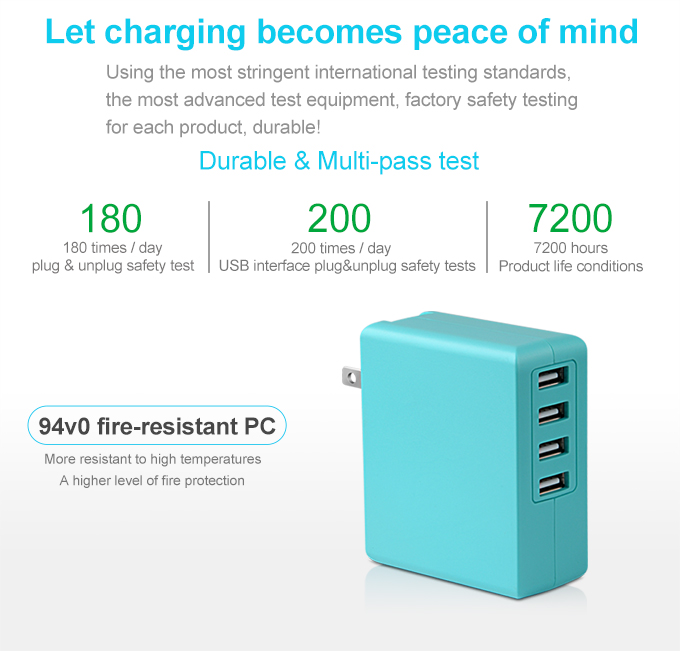 High availability charger
TC-E480F multiple USB ports charger is the High availability USB adapter, especially for the people who want to charge different device at the same time.
Usually used in an electron of industry,bluetooth dongle,headphones,iPhone,iPad, because it is come with 4 USB ports and has total 4.8A charging current, it is very in line with the public's requirements for electricity.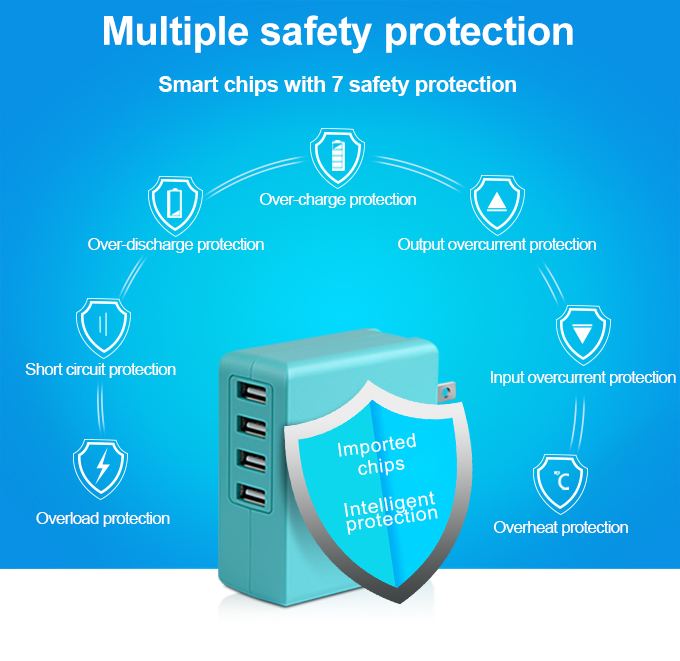 Carry and Storage more Easy
TC-E480F portable USB charger is not only powered 4 kids of DC 5V devices simultaneously but also easy to storage and carry, . Whether you are on a travel, working indoors, This 4 USB ports AC charger it is your best choose.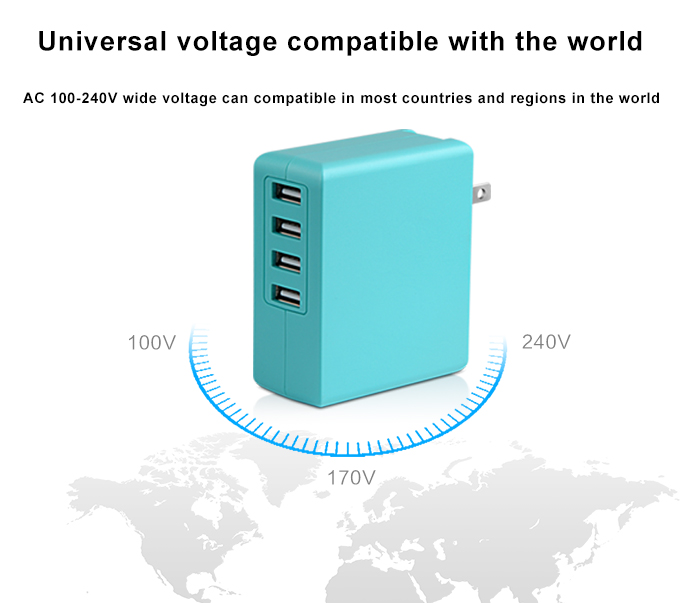 Friendly interface
TC-E480F 4.8A portable USB charger not only with friendly interface design to simple and easy use, but also comes with 100-240V universal voltage for charging. It compatible with products of industry or famous brand DC 5V input device , such as an industry products, Samsung , Apple, HTC , SONY, Apple, ASUS , LG, OPPO, Huawei , Nokia , InFocus , mi , Moto's mobile or tablet and PS4 portable games .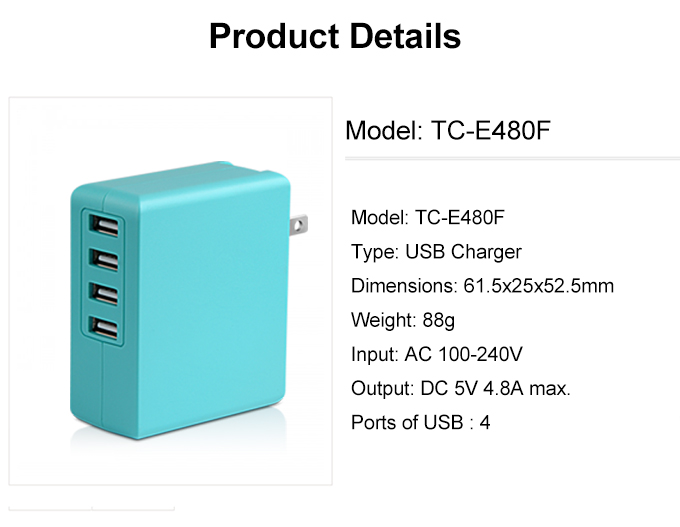 Product info
Input : AC 100-240V
Output : 24W max.
Output : DC 5V 4.8A max.
USB-1 : DC 5V 2.4A
USB-2 : DC 5V 2.4A
Dimension /weight:
US foldable plug : L61.5*W 28*H52.5 mm / 88g
EU /KC fixed plug : L90*H28*H52.5 mm / 93g
UK fixed plug : L83.5*W31* H55.5 mm / 100g
AU fixed plug : L81.5*W32* H56.5 mm / 88g